The project involves the construction of new change rooms with associated amenities and the demolition of old amenities building. The NSW Government, through the Stronger Country Communities Grant Program, will contribute $419,758 to the $2.3M project. The new facilities will include:
AFL standard change rooms (local level)
Netball change rooms
Public toilets
Storage areas (club and Council)
Coaches/timekeeper rooms
Covered spectator areas
Administration areas
Hardstand area between buildings
27 January 2023
Fit-off of services and installation of the remaining joinery items continues within the building. The external cladding is complete.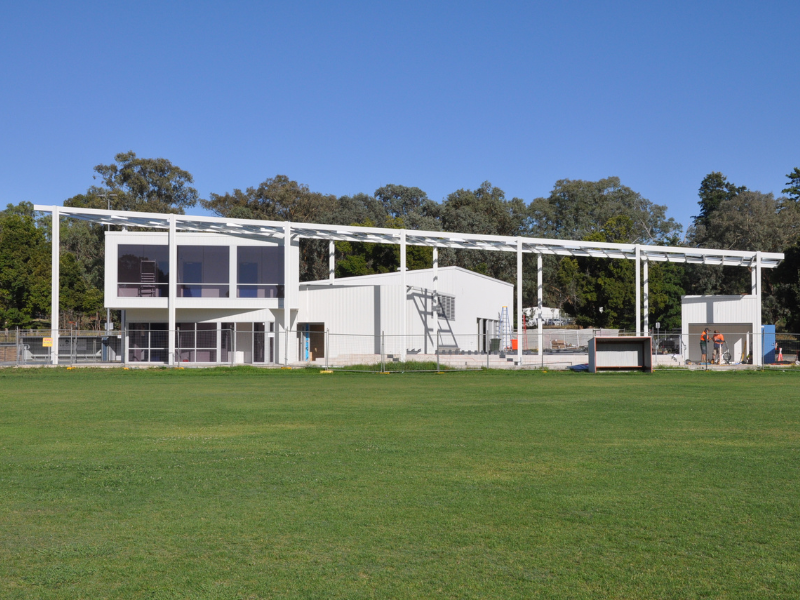 9 September 2022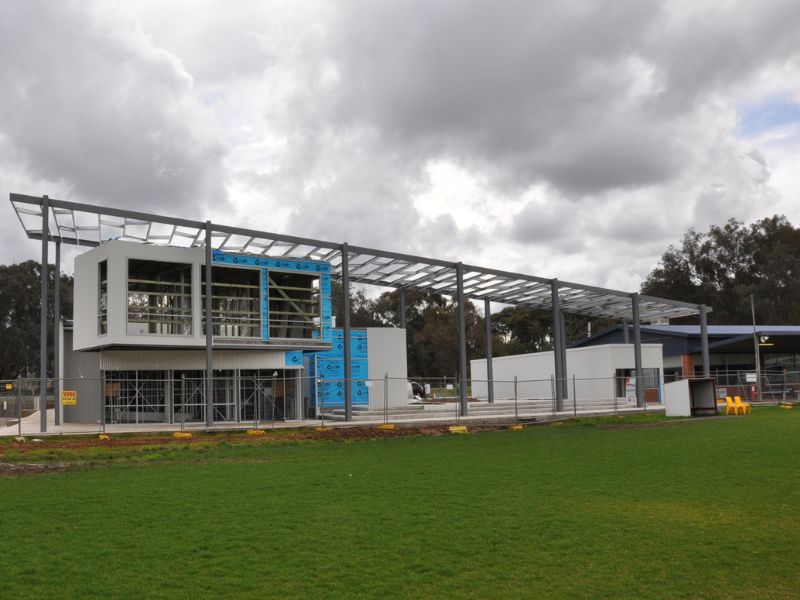 26 August 2022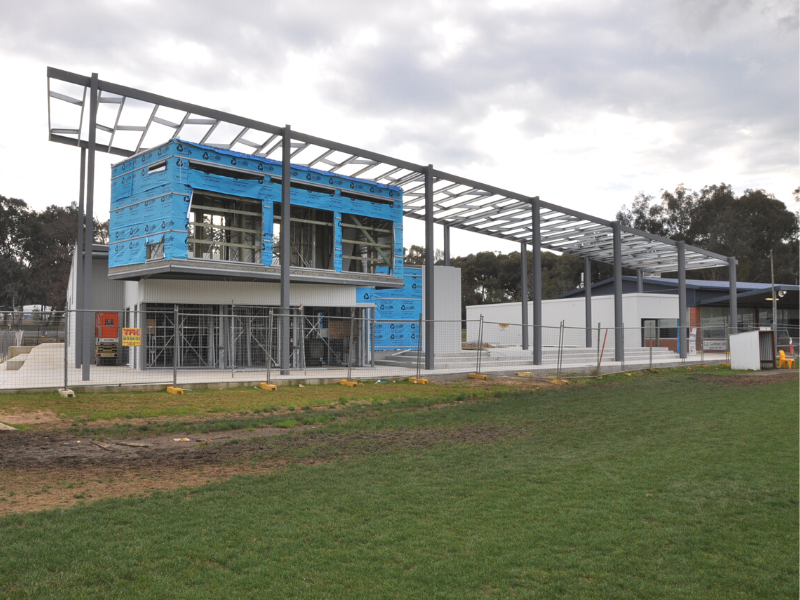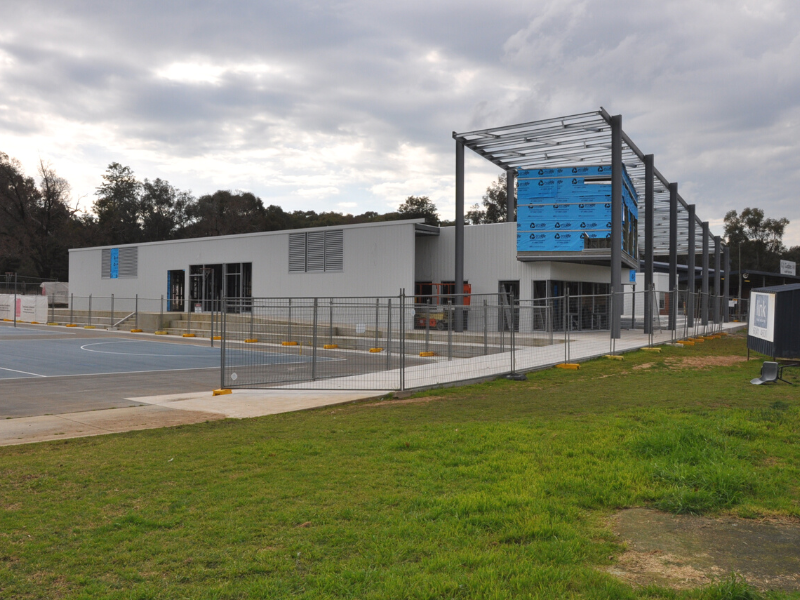 22 July 2022
Colourbond cladding has commenced while internal works continues. External concrete works is nearing completion.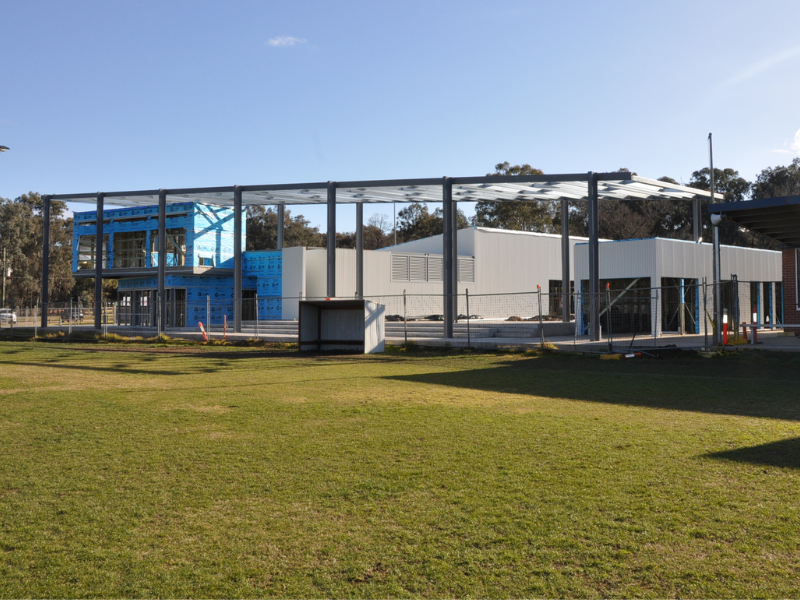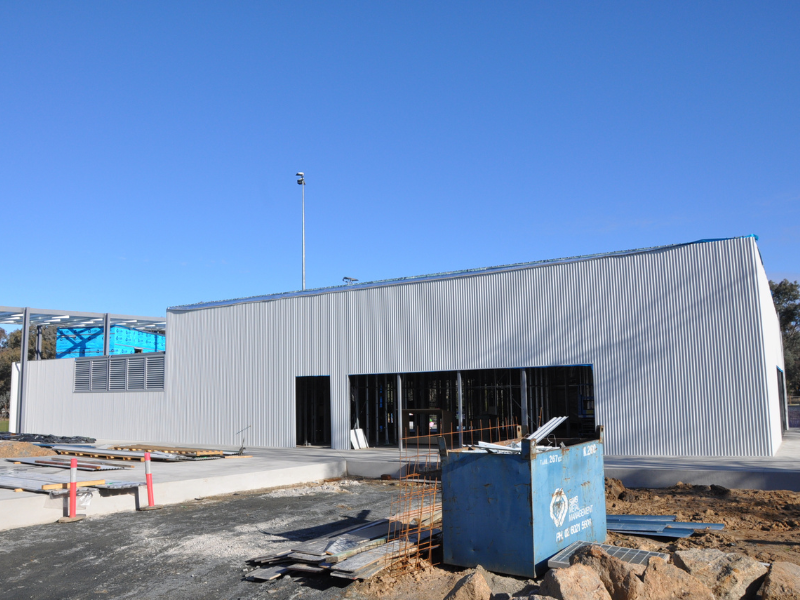 1 July 2022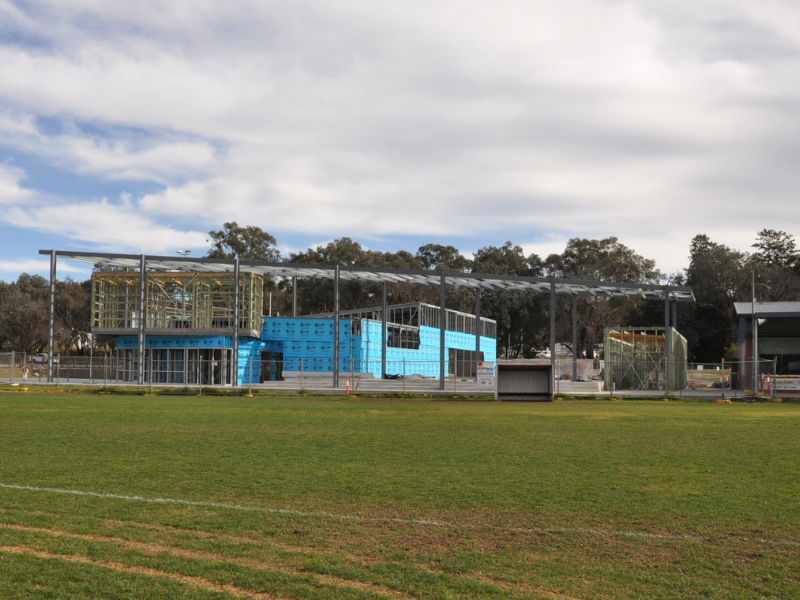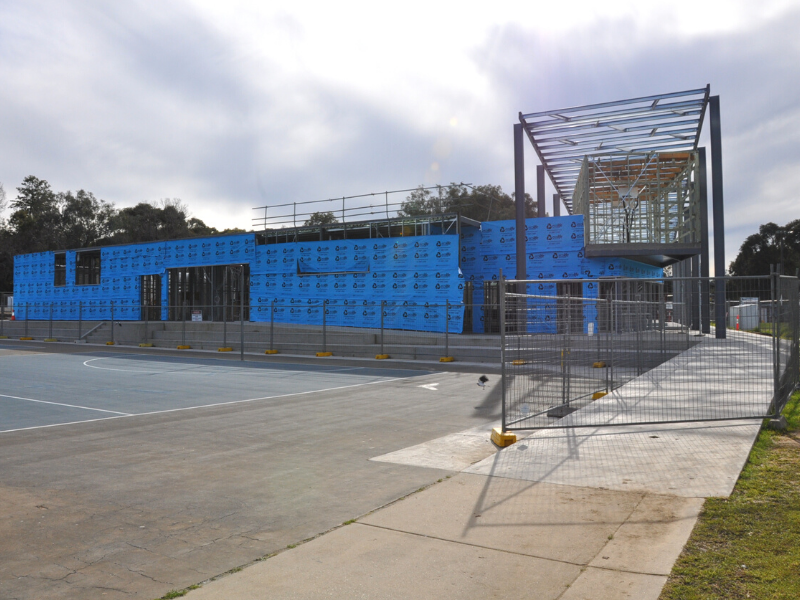 22 June 2022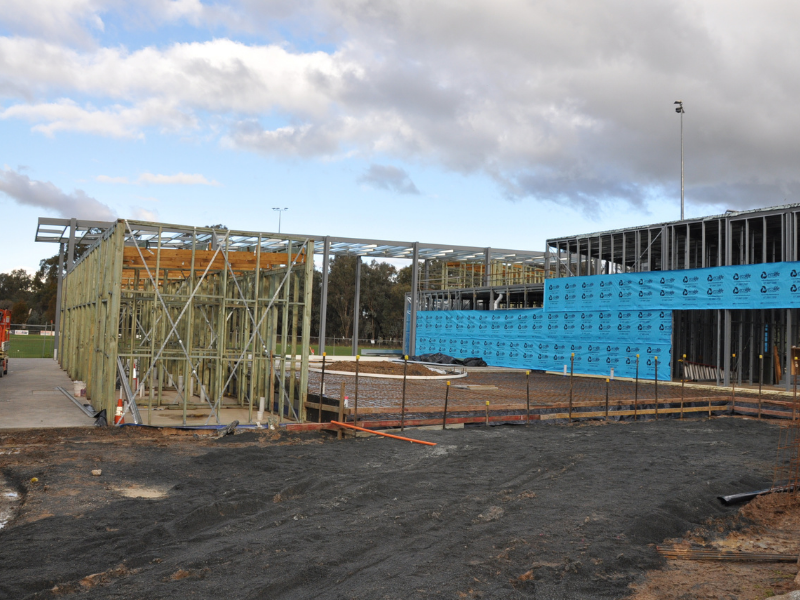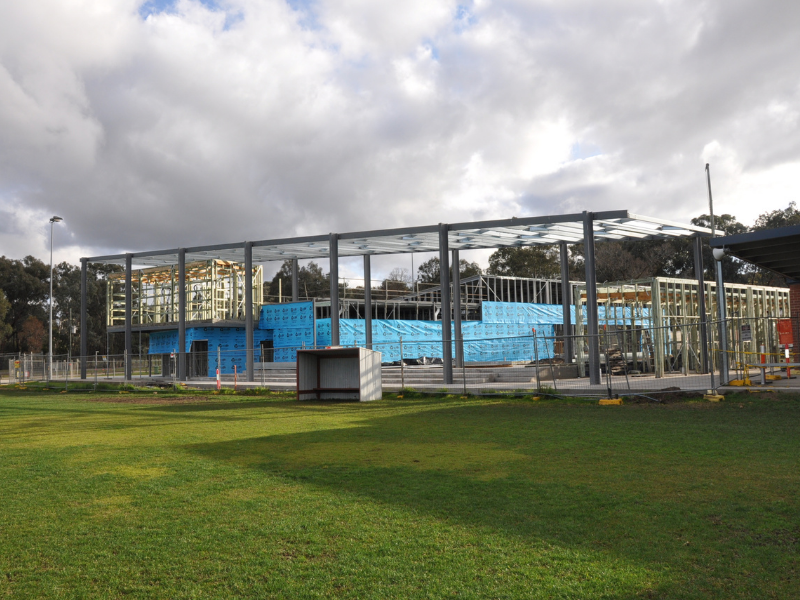 20 May 2022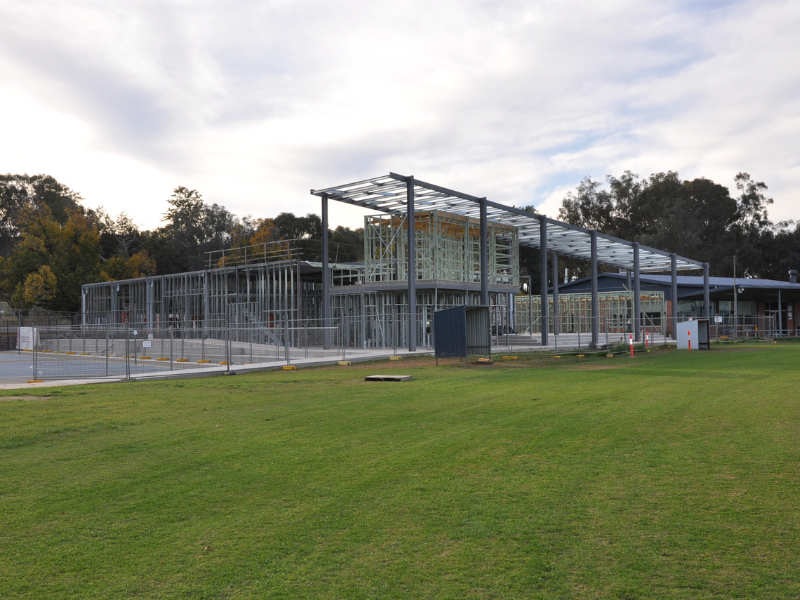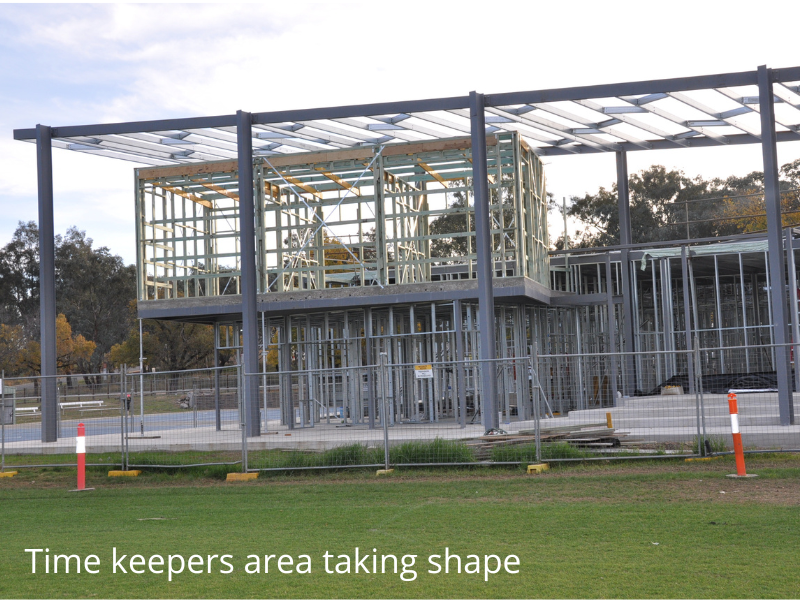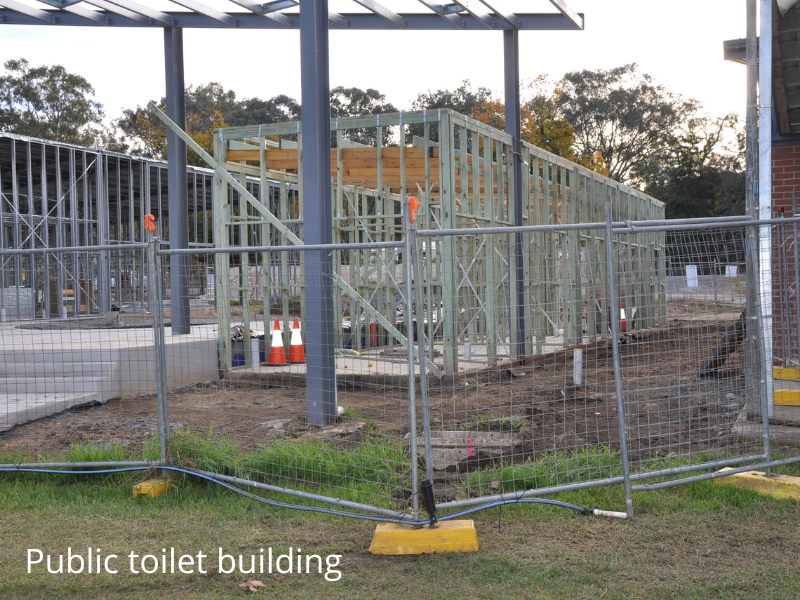 29 April 2022
The first section of concrete work between the new building and existing building is complete. Internal service installation works continues in the building. The concrete work is complete for the coaches/tm keepers boxes.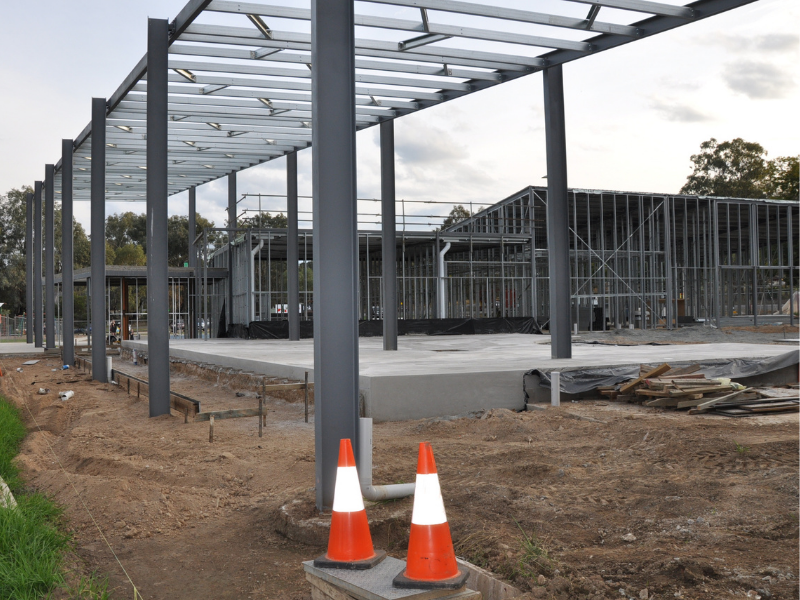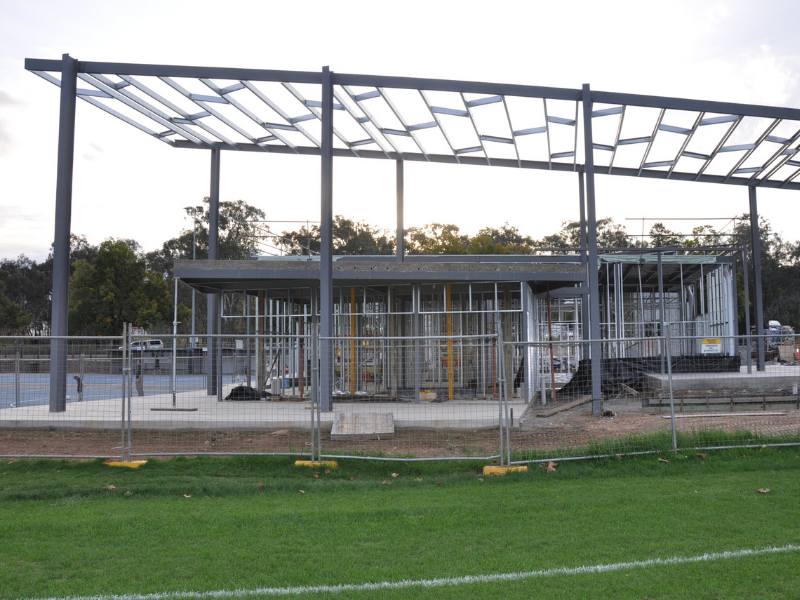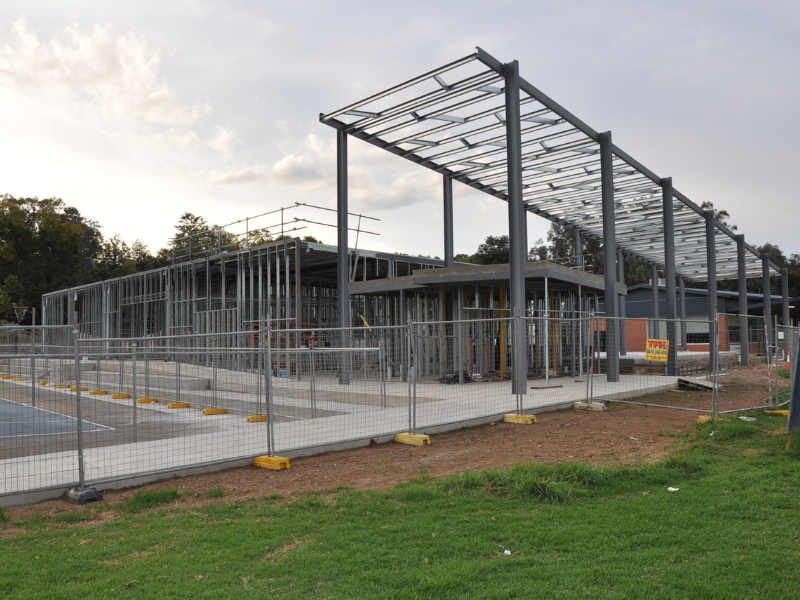 14 April 2022
Formwork for the coaches/timekeepers boxes has commenced with the concrete path to netball courts complete.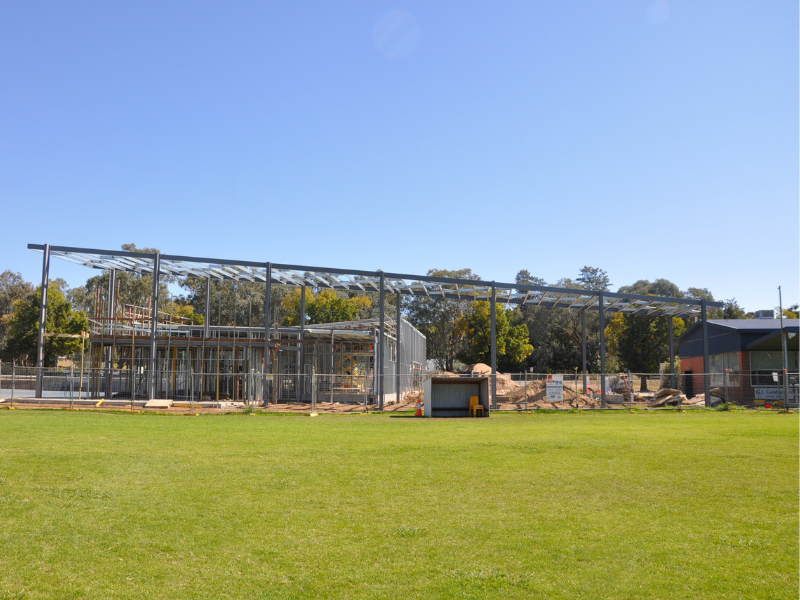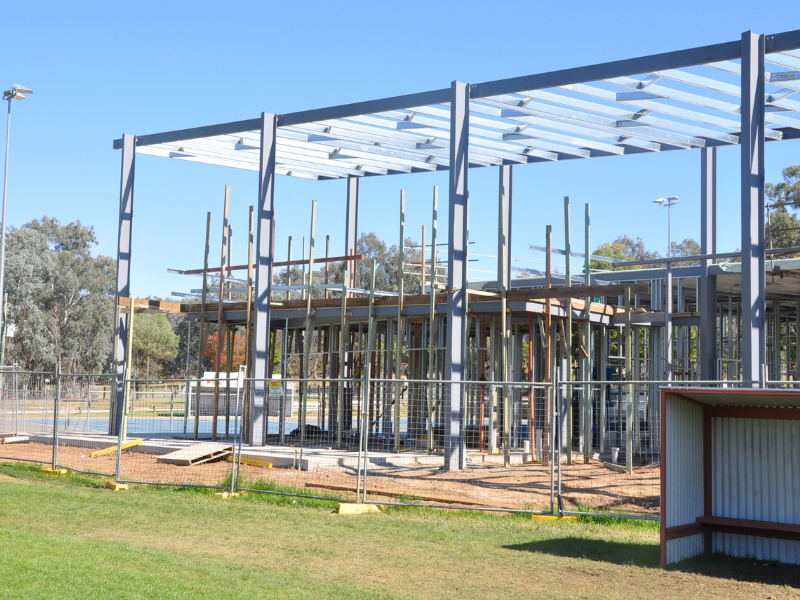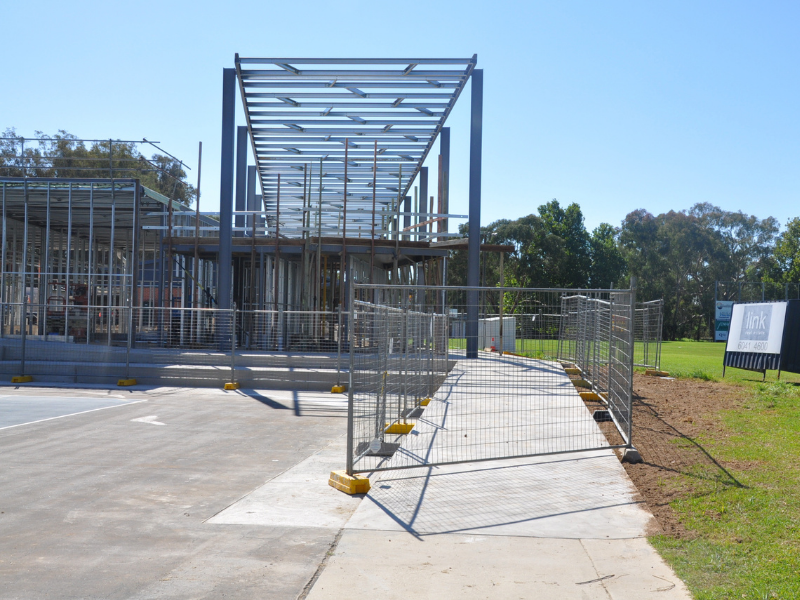 18 March 2022
Installation of roof commences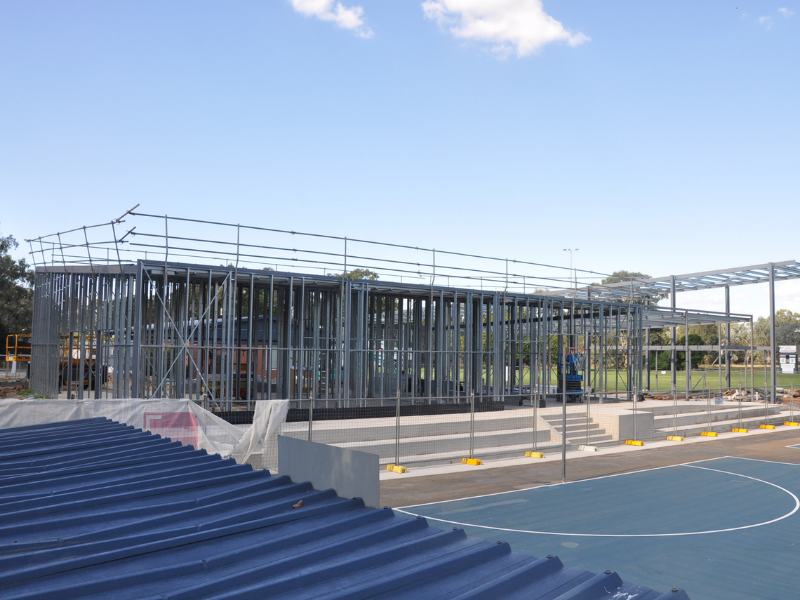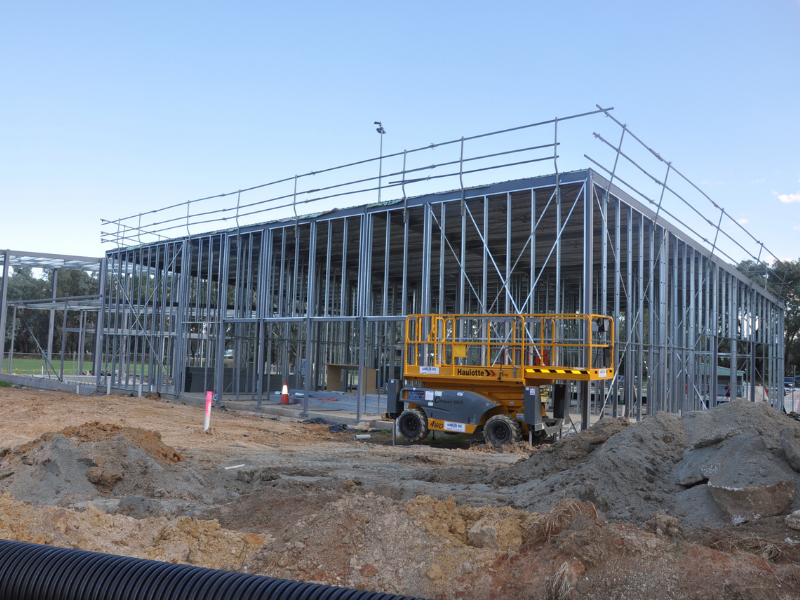 11 March 2022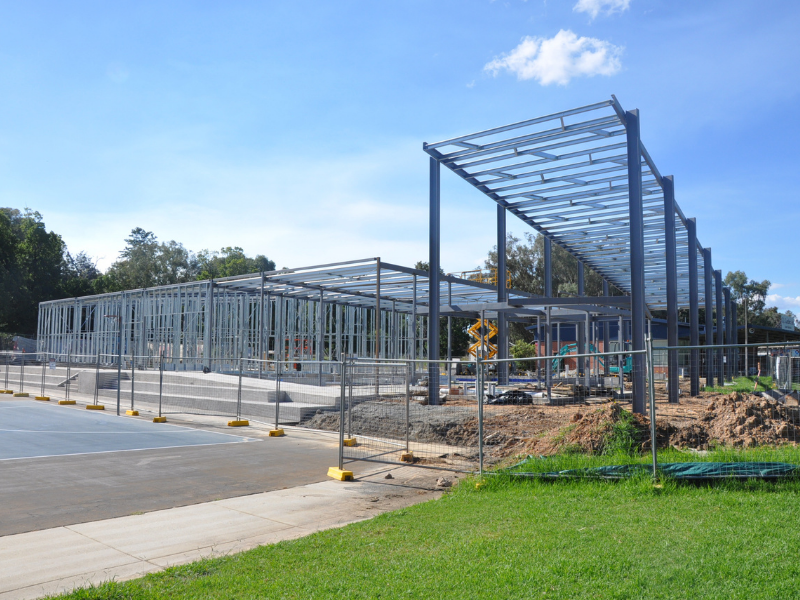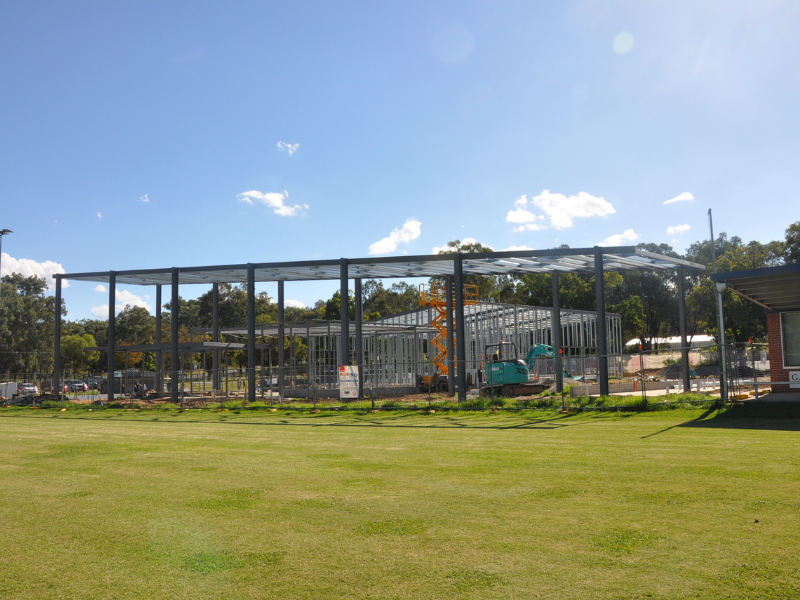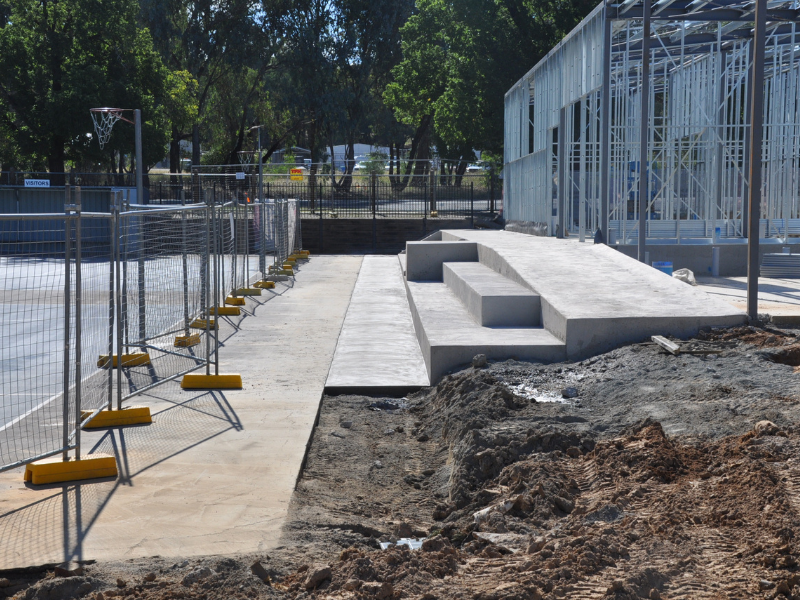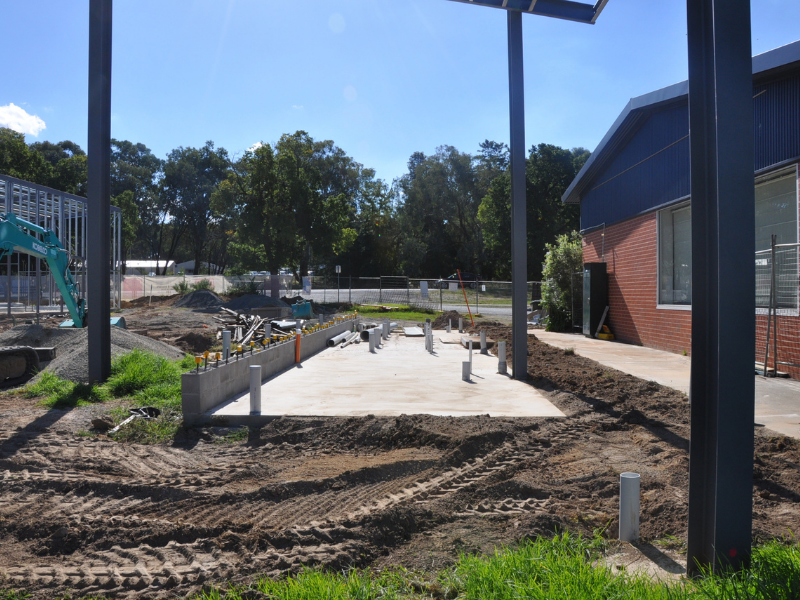 4 March 2022
Construction of the concrete seating continues.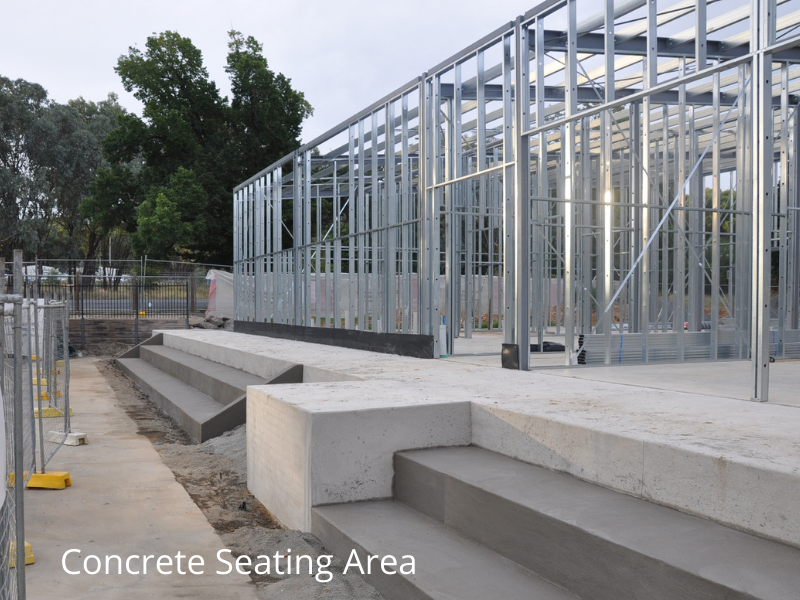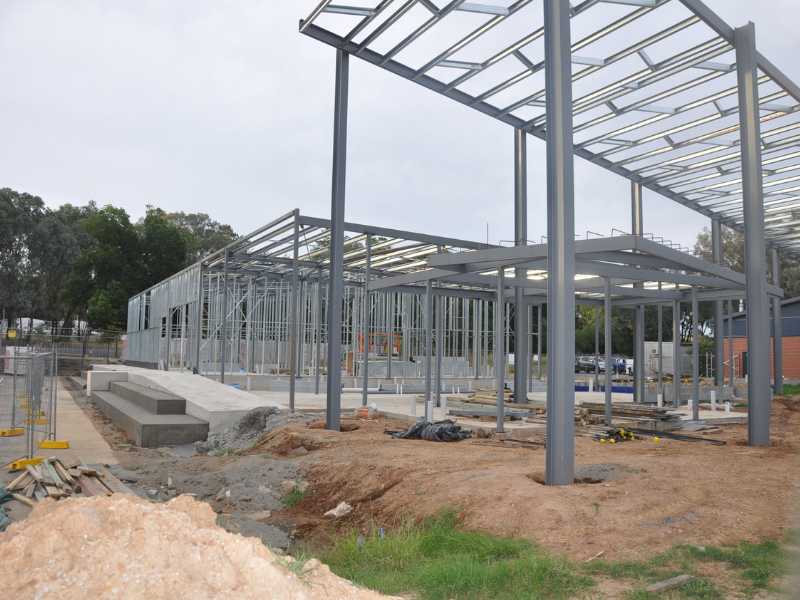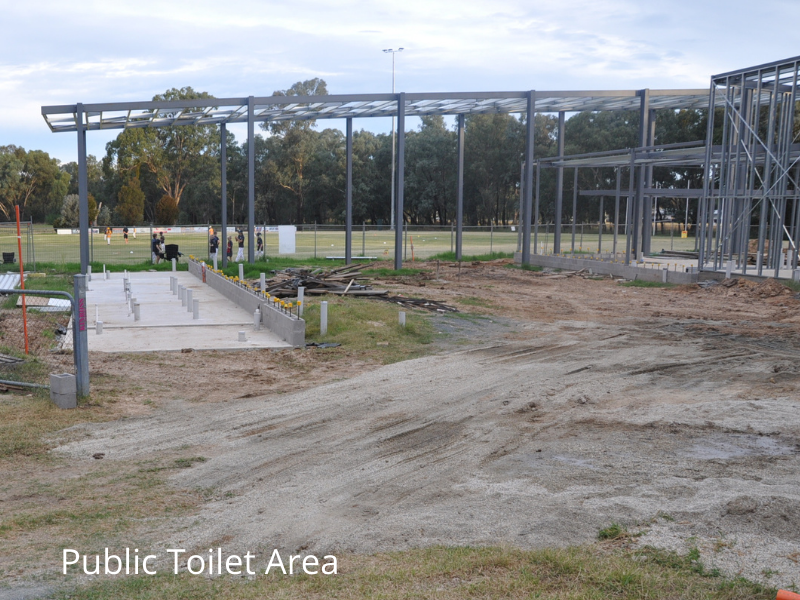 25 February 2022
Works commenced on the concrete seating area and pathway adjacent to the netball courts.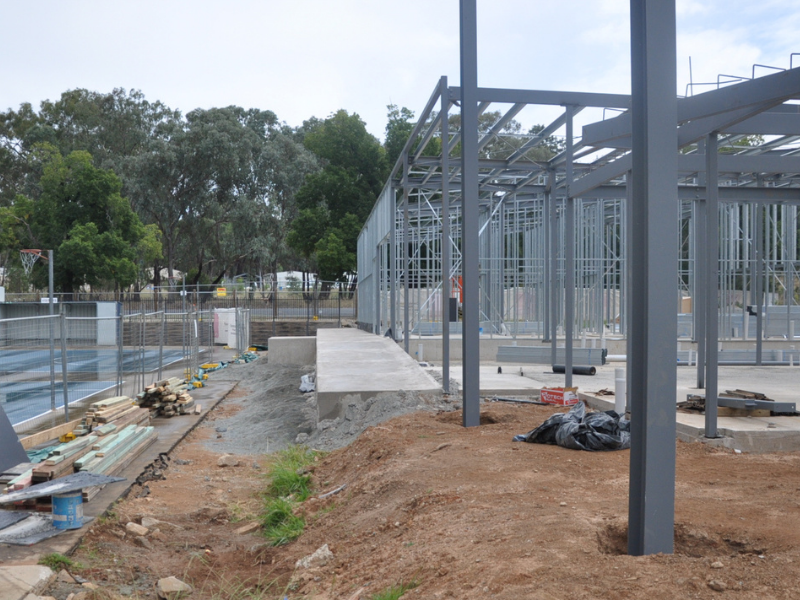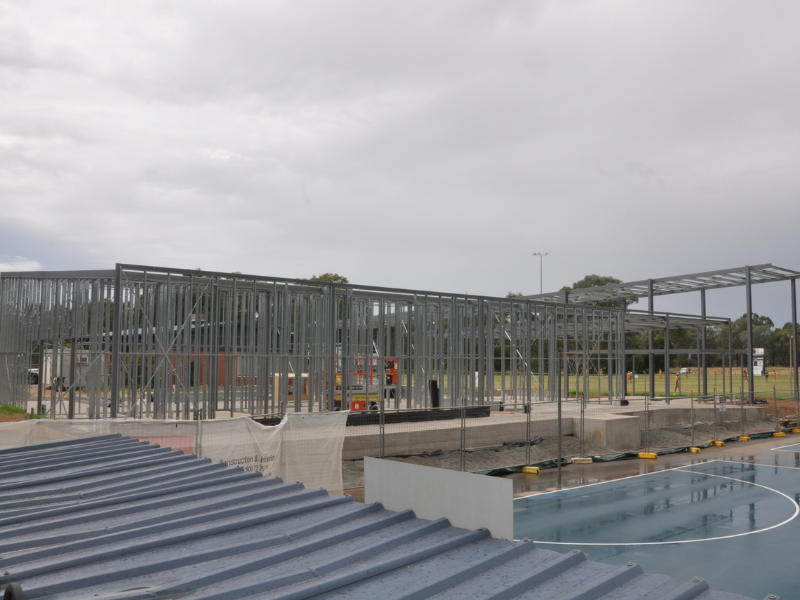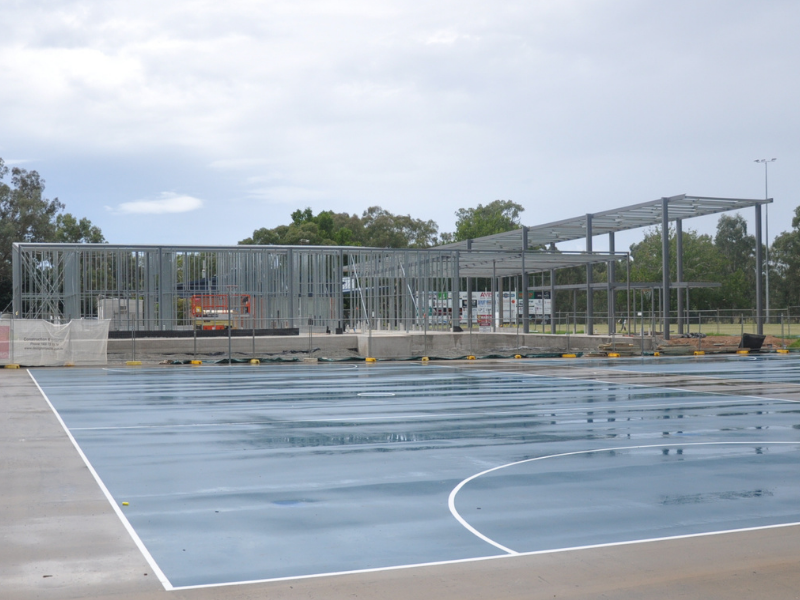 18 February 2022
The steel work and service connections continues. Block work has commenced on the main building with preparation of concrete steps adjacent to the netball courts underway.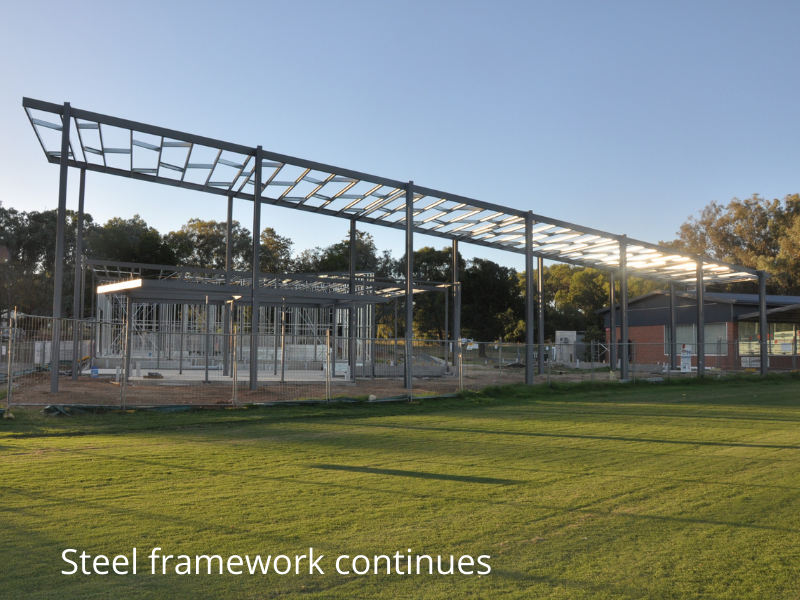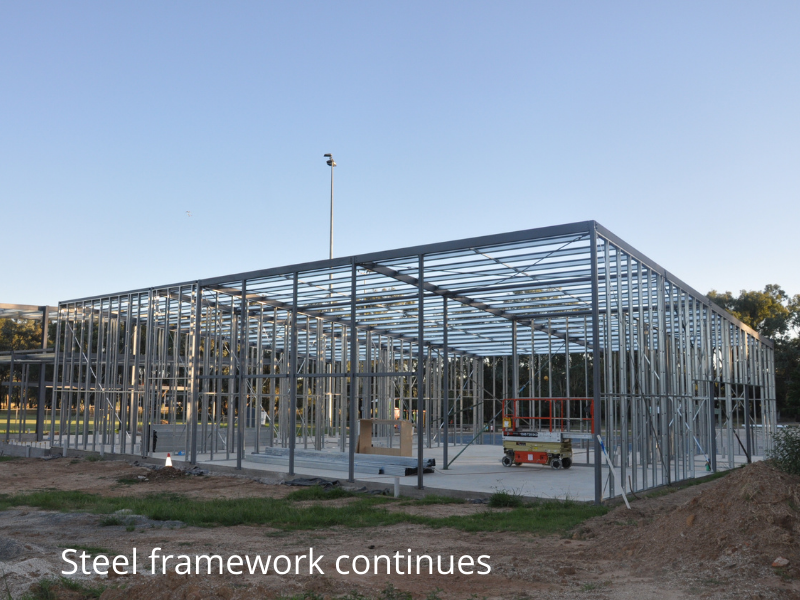 4 February 2022
The construction of the steel frame work continues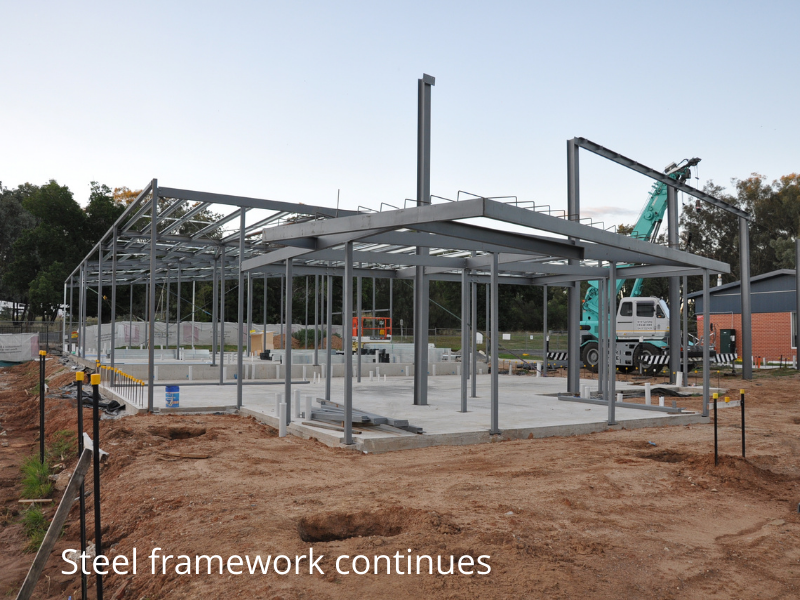 18 January 2022
The erection of the steel frame work has commenced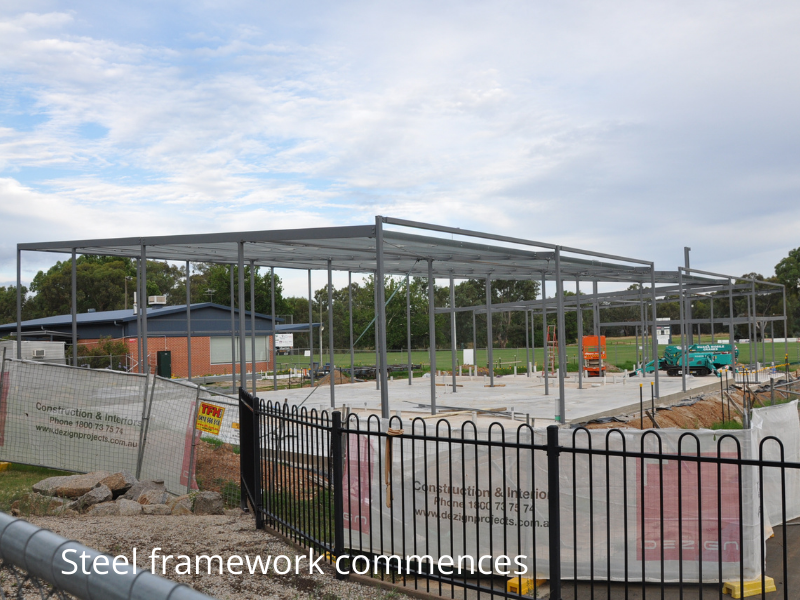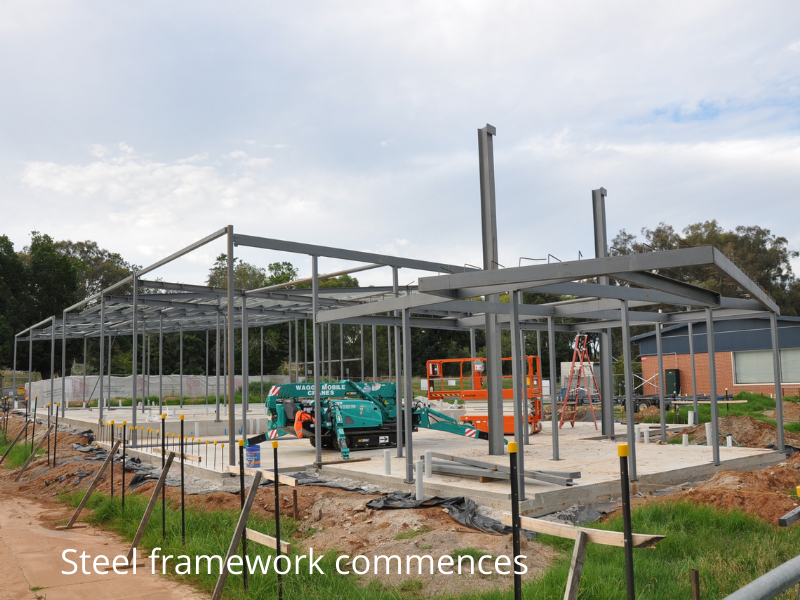 24 December 2021
The concrete slabs are complete for the toilet building and main changeroom building. The erection of the steel framework will commence in the new year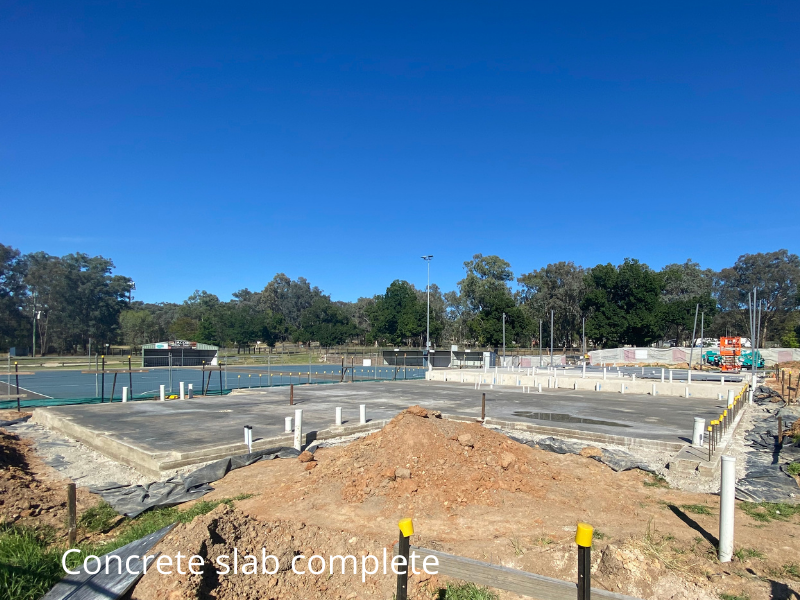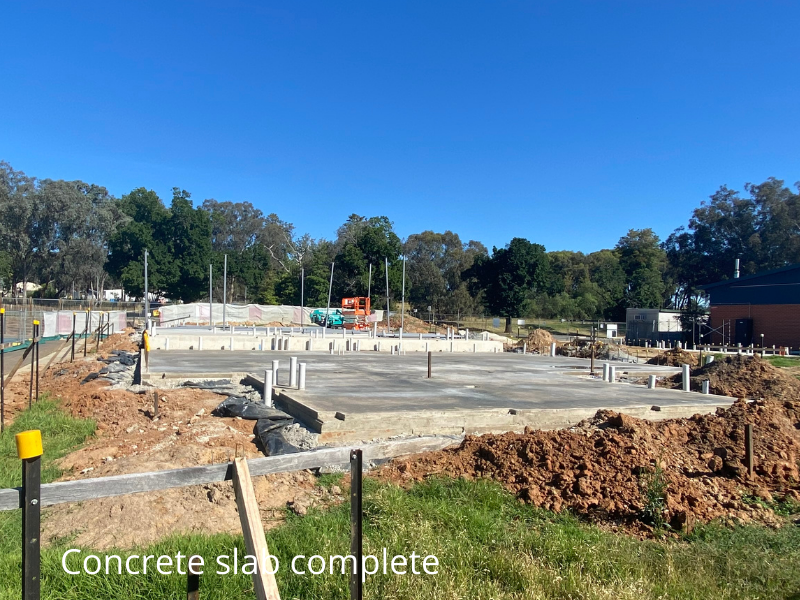 10 December 2021
The concrete slab for the toilets has been poured while part of the main building is prepared ready for concreting.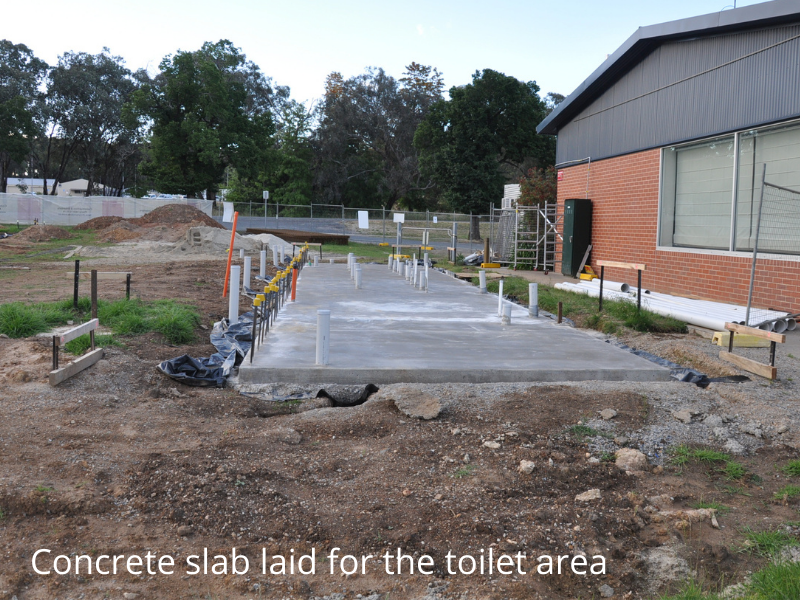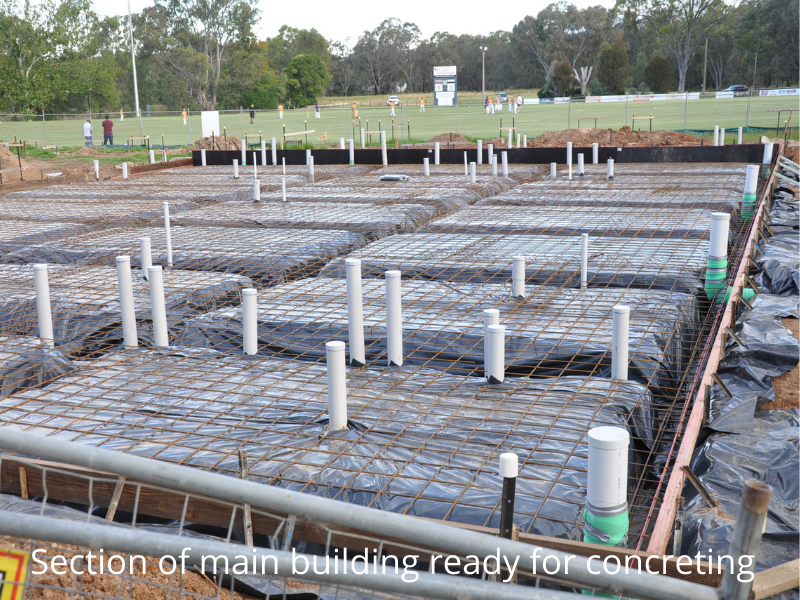 3 December 2021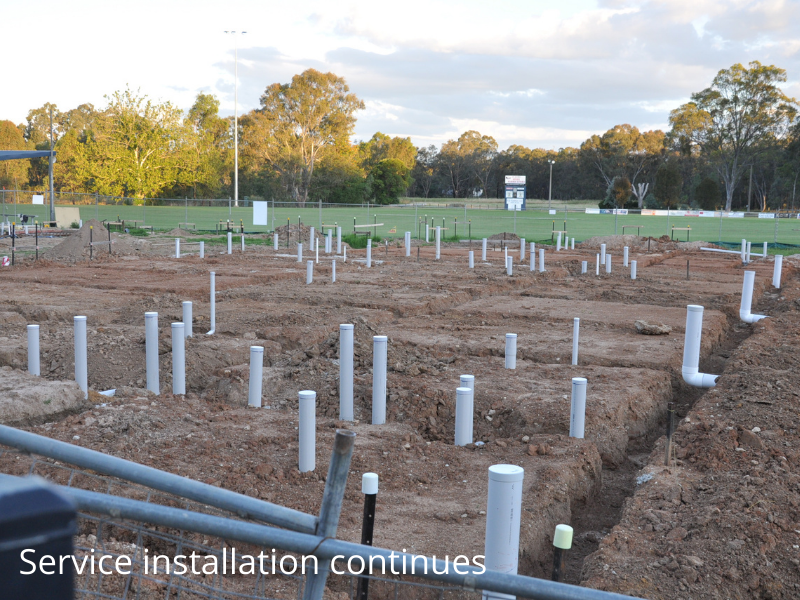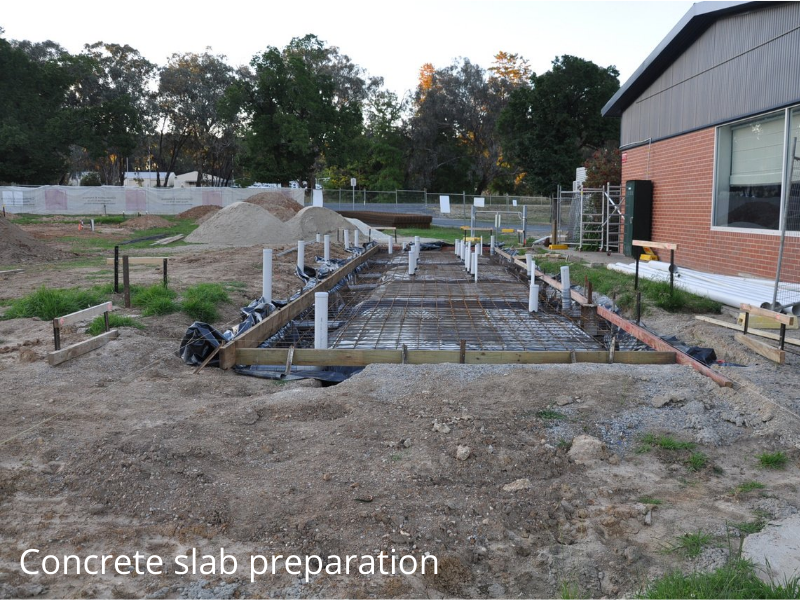 19 November 2021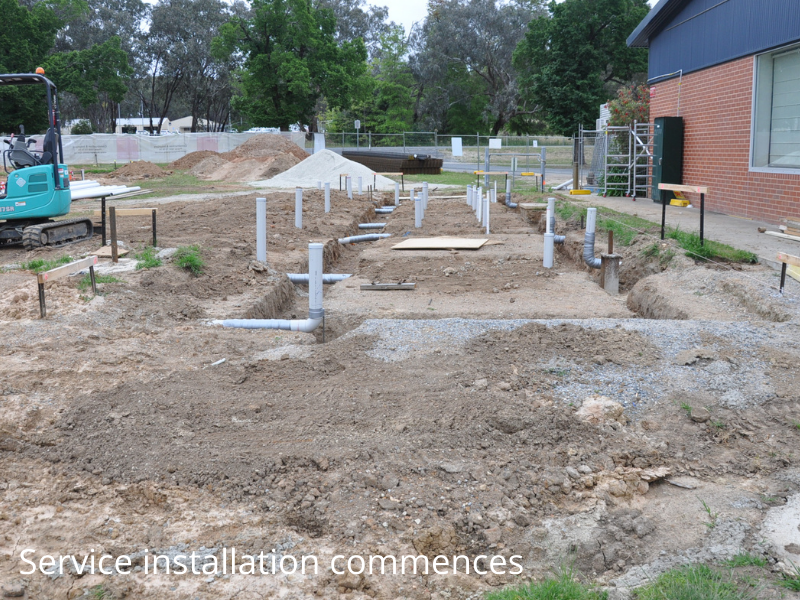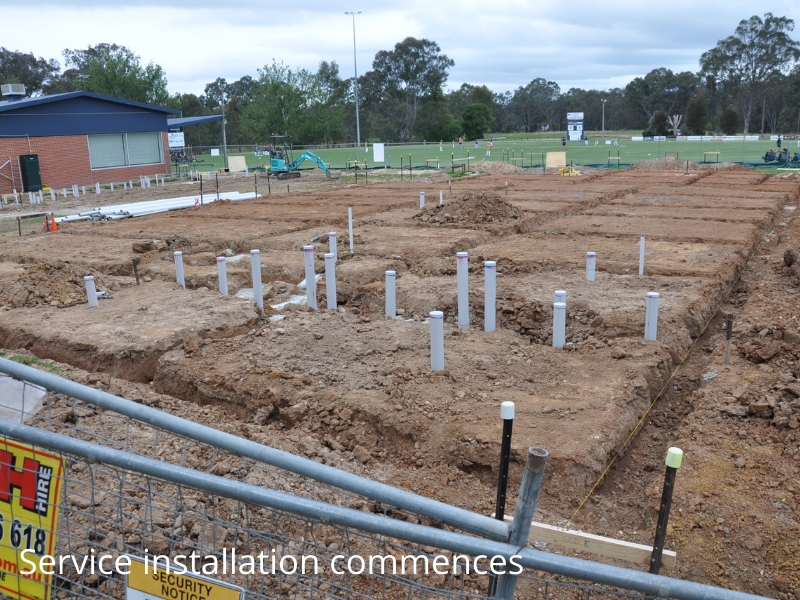 10 November 2021
Concrete work has commenced this week. The main concrete slab is scheduled to be poured in the next few weeks.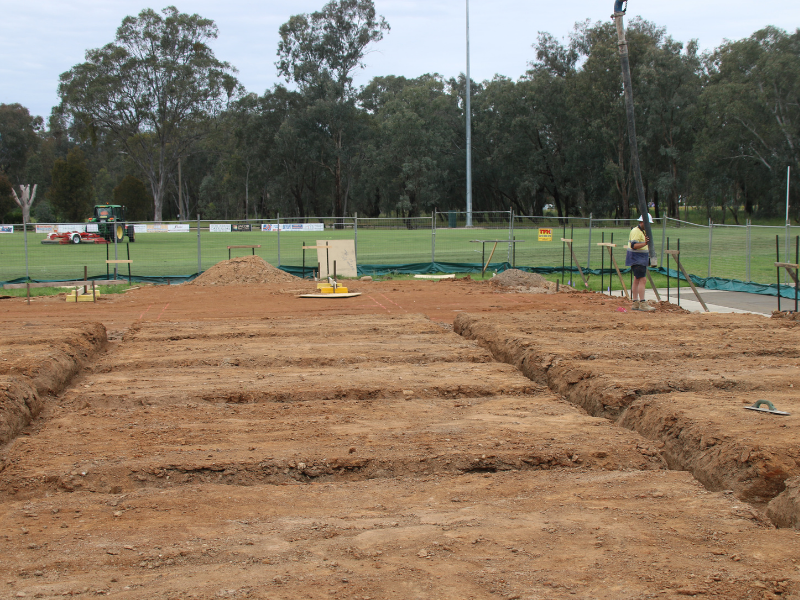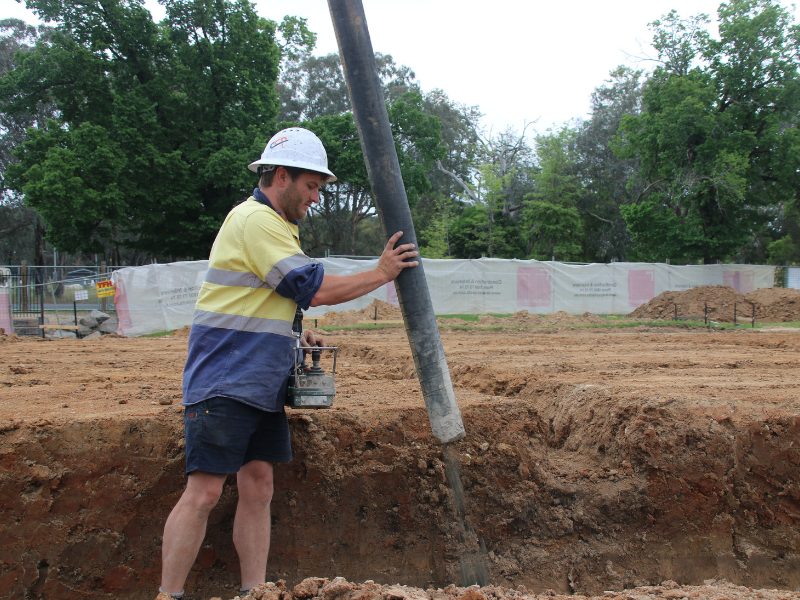 22 October 2021
Earthworks commenced this week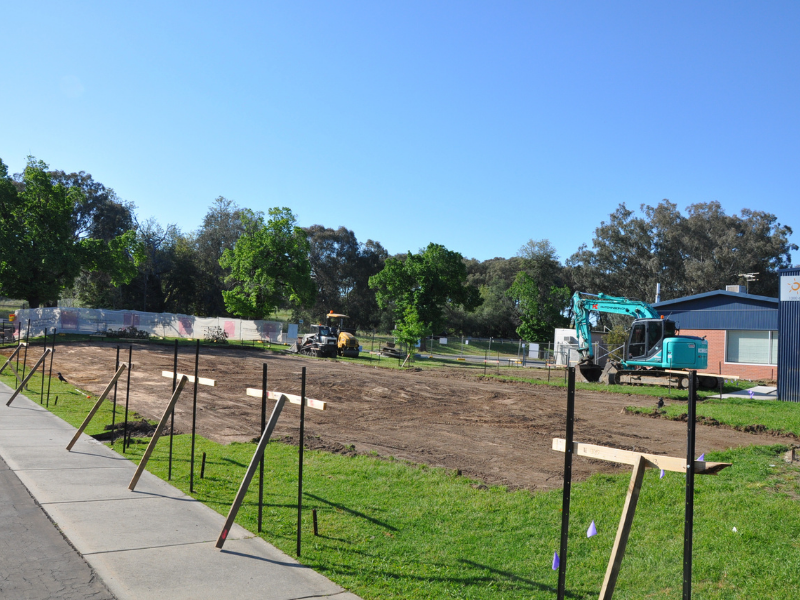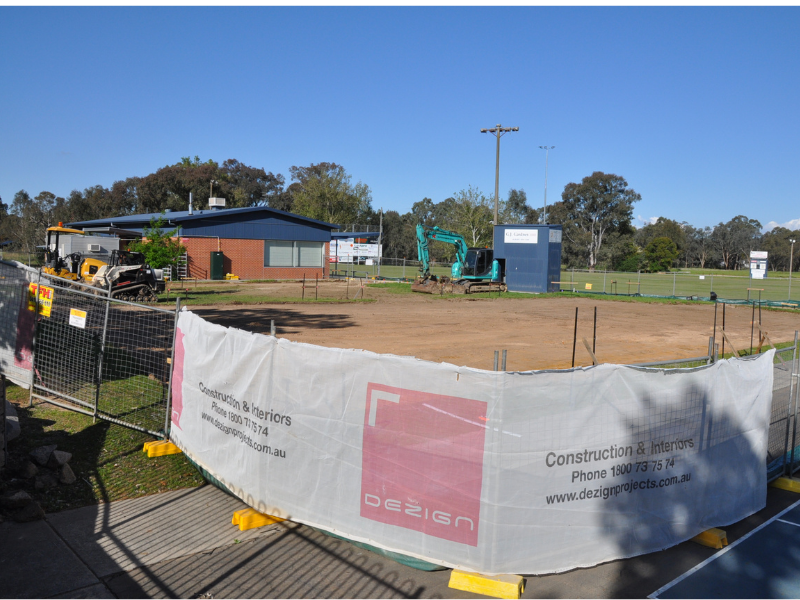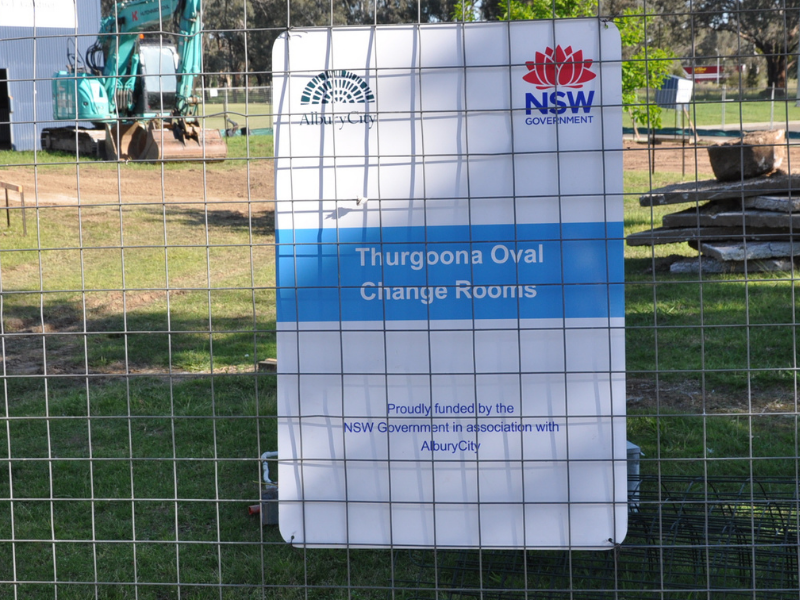 15 October 2021
On-ground works commence with service locations and set out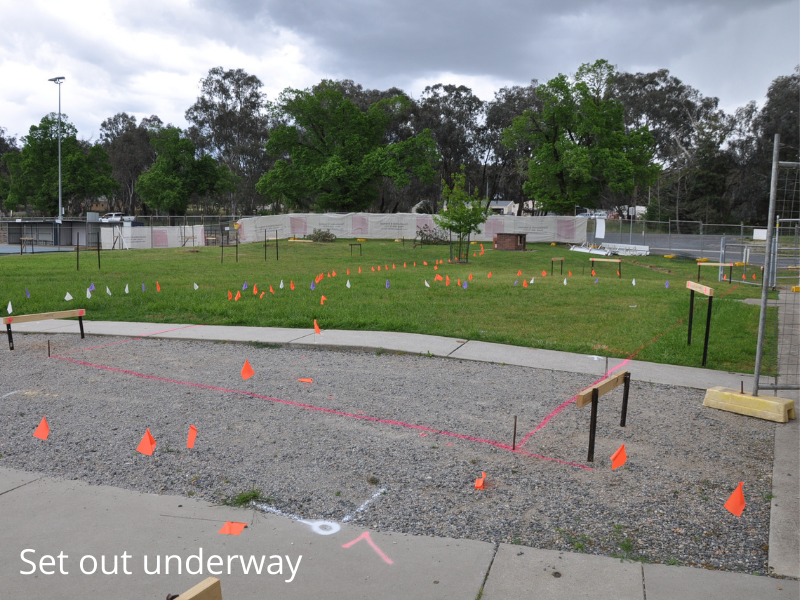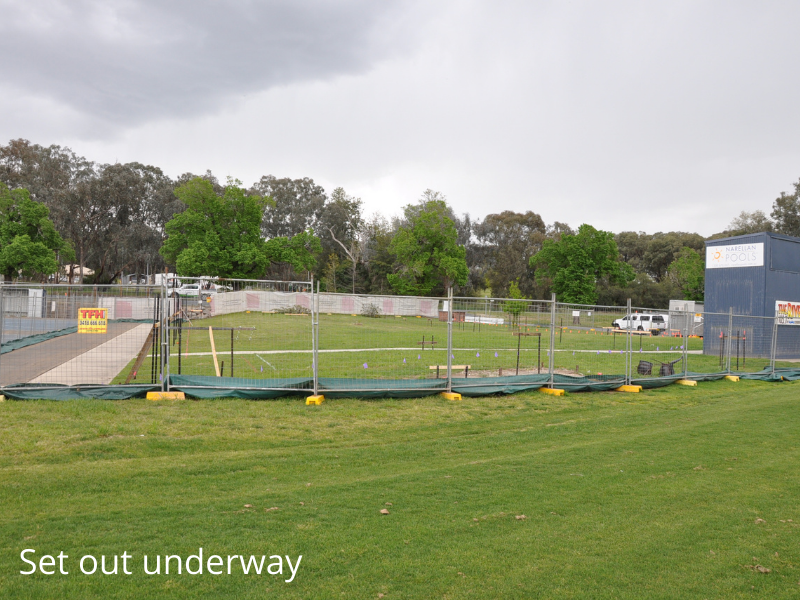 8 October 2021
The construction of the new sports pavilion has commenced with the erection of temporary fencing. The demolition, site preparation and installation of services will start next week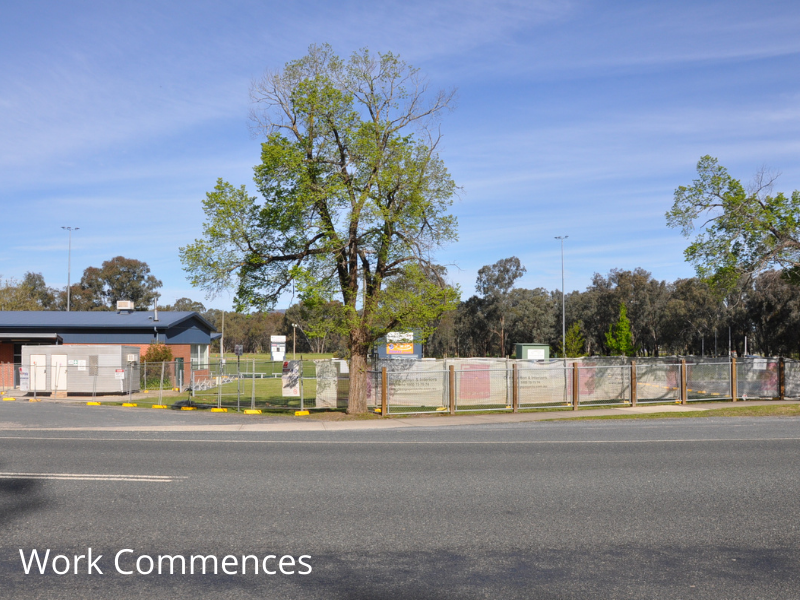 26 March 2021
The detailed design process is continues.
5 December 2020
The detailed design process is well underway. On-ground works are scheduled to commence early in the new year.
29 May 2020
At the Council meeting held on the 25 May 2020 Council accepted the tender from Dezign for the design and construction Contract for the' Thurgoona Oval Sporting Pavilion.