Protecting Albury's Woodlands
One of the great things about living in Albury is the plants that make up our distinctive landscape – the golden flowers of silver wattle and kangaroo thorn, the vibrant purples, yellows and reds of pea flowers, the striking pinks and blues of orchids, the fragrant chocolate lily and the fascinating carnivorous sundew.
It's often taken for granted, but we need to recognise how valuable and vulnerable our native vegetation is. If we don't, we may end up losing it altogether. This is the risk facing Albury's natural Box Gum Grassy Woodland.
What you can do to help protect our woodlands
Keep native vegetation on your property.
Use local native species in landscaping around your home.
Keep roadsides that are signposted Significant Roadside Environment Area in a natural state. This means no mowing, clearing or 'tidying up'.
Plant local native species in 20m–40m wide strips along your boundaries if you live next to native roadside vegetation.
Don't collect firewood from woodland areas.
Remove invasive species such as privet and hawthorn from your garden, and don't plant environmental weeds species such as watsonia, agapanthus, lavender and freesias near bushland.
Don't dump lawn clippings and garden waste in the bush.
Install nest boxes for native animals.
Keep cats inside or in an approved cat pen at night.
Desex your pets.
Protect native vegetation on your property by keeping stock out and removing woody weeds. You can improve it by revegetating the understorey and planting to connect patches of bush.
Consider a private conservation agreement for your land.
Join a local conservation group.
Hollow-bearing trees
Hollow-bearing trees – dead or alive – provide shelter and habitat for native animals, including native species such as squirrel gliders, barking owls and turquoise parrots.
Tree hollows are cavities naturally formed in the trunk or branches of trees and as they usually take at least 100 years to form, the loss of these trees from the landscape has a significant impact on native fauna.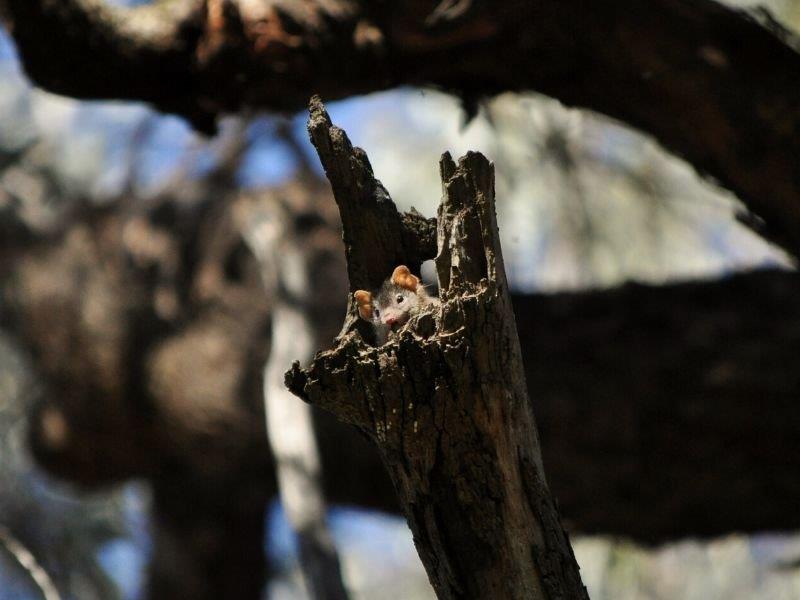 A survey in Thurgoona Wirlinga conducted by the Albury Conservation Company between 2016 and 2018 found 523 hollow-bearing trees (HBTs) in an area of 750 hectares.
One in six of those trees were dead but still provided important habitat. The survey found that the dead trees deserve protection equivalent to that given to living trees.
The data was supplied to Council to be used in consideration of development applications for roads, housing and other construction projects.
Council has provided funding to the Albury Conservation Company to implement a monitoring program to learn more about the relationship between different habitats and the presence of squirrel gliders, which are listed as vulnerable within NSW.
Along the Bush Tracks
Discovering the hilltop bushlands of Albury-Wodonga including plants, birds and trails.
This publication was originally written by members of Monument Hill Parklands and Albury Wodonga Field Naturalists with support from the National Environment Centre (Riverina Institute of TAFE) and Parklands Albury Wodonga.