The inception of the Albury Botanic Gardens began with the original Government grant in 1864 of 50 acres (20 hectares) of land, later occupied by Albury Sports Ground, Noreuil Park, Hovell Tree Park, the Albury Base Hospital and the Gardens.
The Albury Botanic Gardens were officially formed in 1877, when Albury had a population of a mere 3,000 people - and lacked the relative wealth of the prosperous gold minning centres such as Bendigo and Ballarat. However, the completion of the railway from Melbourne to Wodonga in 1873 made Albury a natural channel for Riverina produce bound for the markets of the Victorian capital and gave the town a boost to its municipal self-confidence.
In 1887-88 Smollett Street was extended through the Botanic Reserve and the bridge over the Bungambrawatha Creek was built. The Gardens were then given their present boundaries, with an area of approximately 10 acres (4 hectares).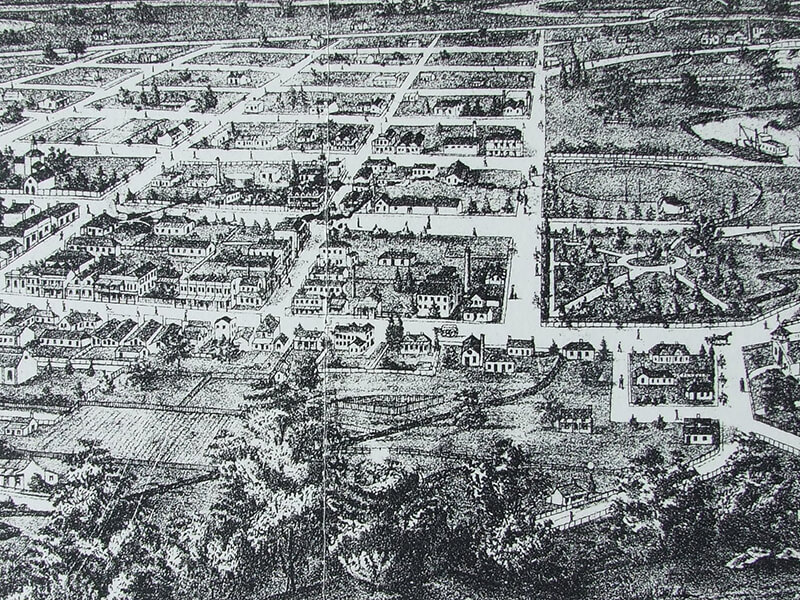 In 1901 Mr J.E.R. Fellowes was appointed curator, a position he held for 36 years. In this time he transformed the Gardens. The straight paths and shrub beds became curved and rounded, giving a softer, less formal appearance. Shrubberies, annual borders, collections of Australian rainforest trees, exotic trees & palms were established.
By 1951 further modifications to the layout had occurred. In particular, the straight path from the main entrance gate to the central ponds had been removed, as had the formal circular walk around the ornamental ponds. The straight path adjacent to Wodonga Place had also been removed, together with the path access to the rotunda. New paths included a diagonally aligned path from the sundial to a new entrance to Dean Street at the western end of Elm Avenue, and a modified and enlarged central loop. The area immediately north of the service yard that had been occupied by the Albury Bowling Green had been developed as garden.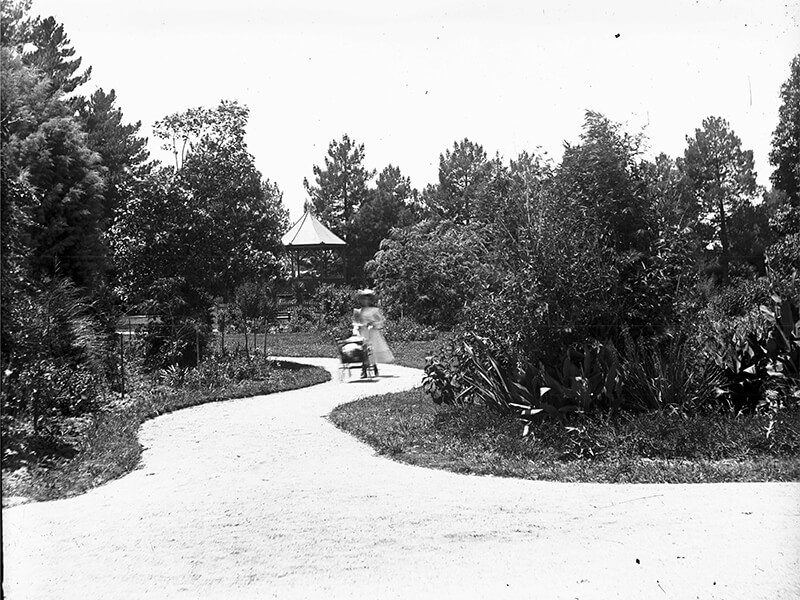 The existing layout remains similar to the 1951 plan. Modifications include creation of a new curving path along the north-west boundary providing loop circulation around the creek lawn, and construction of the fern walk. Several small links have been removed including direct connection between the main entrance and the Hume monument; the link between the main entrance and the drinking fountain; and the semi-circular path from the Smollett Street entrance to the east side of the curators cottage. The layout of the area near the toilet also has been altered.
Modifications to the garden bed layout are substantial if compared to the 1906 Fellowes Plan, although changes since the 1951 plan are generally relatively limited. The two major changes are the modification of the rose garden area and the establishment of the Children's Garden to replace the fern walk in the Bowling Lawn area.
Over the years the gardens have won many awards for layout, planting design and annual displays.
---
Further information
Lawrence, D. (2012). Albury Botanic Gardens. Albury, N.S.W.: Albury Library Museum.