In partnership with the local Aboriginal community, the Albury LibraryMuseum has developed a powerful permanent exhibition to highlight Aboriginal heritage and recognise the traditional knowledge and significant artefacts of the Wiradjuri region.
Wiradjuri Talkback explores the history of our Wiradjuri country and what it means to be Aboriginal in Albury Wodonga today. Among the exhibits are original artefacts such as a preserved canoe scar tree, Riverina bark painting, historic sketches by Tommy McRae, and tools that celebrate local Aboriginal traditions and knowledge.
Local Aboriginal Elders strongly believe that their traditional knowledge, which is unique to our region, should be recorded and passed on to their young people. 'We have a duty to pass our knowledge on.' Wally Cooper, Bangerang Elder. 'Traditional crafts need to be practised before they are lost to us.' Nancy Rooke, Wiradjuri Elder.
The Murray River red gum bark canoe that is now on display was created by local Aboriginal people using traditional cultural practices. It reflects a push to reintroduce such practices and traditional knowledge to current and future generations.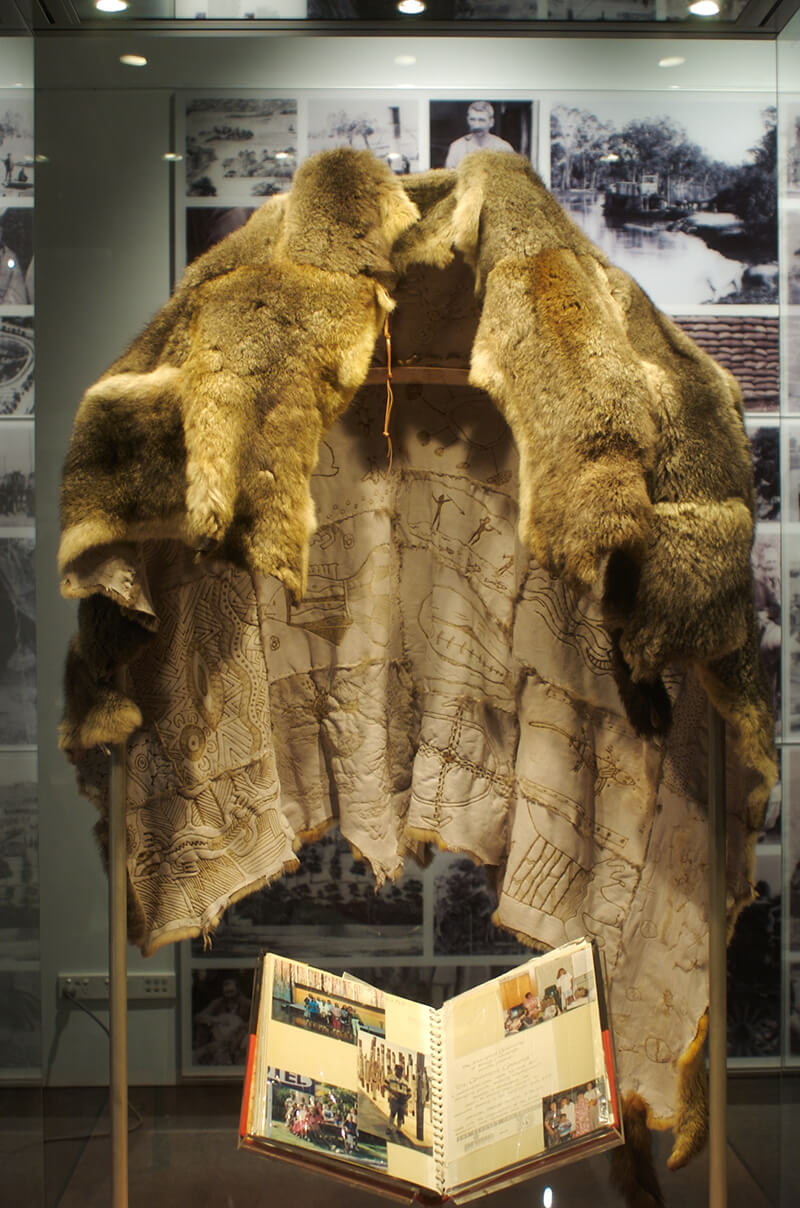 A contemporary display commemorates the 'Sorry' statement by Prime Minister Kevin Rudd acknowledging the Stolen Generations, with the words of the National Apology etched into glass artwork by Sam Juparulla Wickman. Ngambri-Ngunnawal Elder Aunty Matilda House-Williams wore the stunning exhibited possum skin cloak created by Yorta Yorta artist Treahna Hamm at the 2008 National Apology ceremony.
Photographer Belinda Mason worked with the local Aboriginal community to make a visual record of their personal messages. Traditional Elders and Aboriginal young people wrote their thoughts on a whiteboard; these expressions were then recorded through photography. The aim of the project was to give non-Aboriginal people a unique, personal insight into the views of Aboriginal people in our community.
Wiradjuri Talkback celebrates the unique history of Aboriginal people in the Albury Wodonga region. In 1972, Albury was chosen as a town for the Families Resettlement Scheme, which created new mainstream communities for disadvantaged and dispossessed Aboriginal people. The Albury Wodonga Aboriginal community is thus a 'mixed mob', coming from many different regions and tribal backgrounds. In making their home in Albury Wodonga, the diverse members of this community have reconnected with country and re-established Aboriginal influence and rich cultural traditions in the region.